Accidental Annihilation
Already twelve years into this mission, you and your team are charged with locating possibly habitable exoplanets.
This far out of the solar system, the only way to locate them is to send scanning probes, clearing out the areas around their possible locations.
Unfortunately, we've identified that some exoplanets do not react well to our probes and explode like a fantastic supernova on impact.
In Accidental Annihilation, every tap counts as you race against the clock to identify all potential exo-planets.
Strap into your cockpit and race against your best time, or compete locally against your friends and family. Either way…
DON'T BLOW UP ANY MORE EXOPLANETS!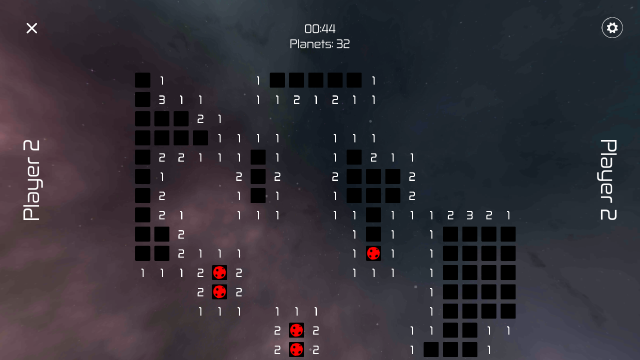 Game Play
Goal: Identify all potential exoplanets by clearing the sub-quadrants around them.
Tap on a sub-quadrant to clear that area from any potential dangers. Be careful, exoplanets can be highly reactive. If you hit one, the whole quadrant is lost.
A number on a sub-quadrant represents how many exoplanets are directly touching that sub-quadrant.
An exoplanet can be located directly above, below, to the side, or diagonally from the numbered sub-quadrant.
Carefully use this number to determine which additional sub-quadrants are safe to tap on to clear.
Long press to mark a sub-quadrant as a potential exoplanet. Long press again to remove the mark.
The number of marks you have is limited, but they are not required to be used.
Pinch to zoom in or out and drag to pan the map.
To pause at any time, press the Settings button.
Features
● A visually stunning puzzle game with a science fiction theme
● Fully replayable, with each match a new experience
● Multiple stats, including best time, are saved for each level
● Family-friendly artwork and game play
● 4 difficulty-based single-player levels to select from
● 4 local multiplayer versus levels for two players
● Random level selector
● Designed and Developed by Tresiris, LLC
● Optimized for The Infinity Game Table by Tresiris, LLC