All-In Texas Hold'Em
It's time to take your Poker night to the next level with All-In Texas Hold'Em for the Infinity Game Table and Game Board.
Texas Hold'Em is the most popular form of Poker in the world, and now with All-In Texas Hold'Em you can play against 6 other players locally on your Infinity Gaming device!
Gather around the table with your friends, take on our Poker AI, or mix and match for an authentic Poker experience at any time.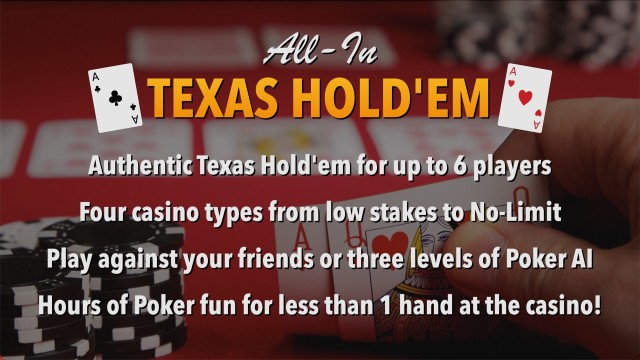 Game Play
All-In Texas Hold'Em has 4 different casinos and challenge levels to test your skills.
You and your friends can play your way from a friendly Home game all the way up to the No Limit tables of luxurious Monte Carlo.
Along the way you will be challenged by 3 levels of Poker AI, with each one having a different style of betting to keep you on your toes.
If you're new to Poker, our easy-to-follow How to Play section will teach you the ropes and is always available during game play if you need help remembering how good your hand is.
Playing couldn't be easier. Each player can view their cards whenever they like just by tapping on them (just make sure you cover them to keep your opponents wandering eyes away), and the game will help to manage your chips so that you can focus on strategy.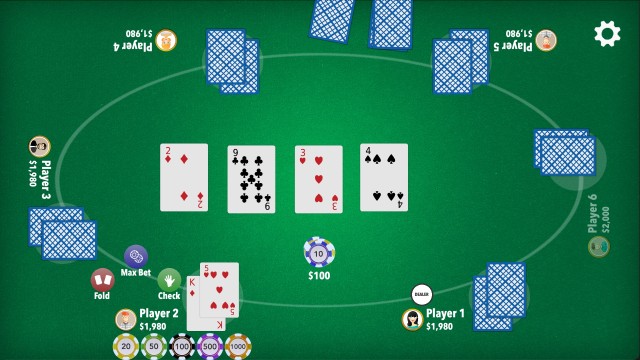 Features
• Multiplayer- Play with 1-6 players or Poker AIs at a time and get unrivaled Poker experience.
• Poker Progression- Start out in a Home game with low stakes and play your way up to the elite No-Limit Tables of Monte Carlo.
• Poker AIs- You can play solo against our Poker AIs in any casino or use them to round out a game with your friends.
• Pick your challenge- Our AIs progress in difficulty as the stakes go up and they always play fair, no peaking at your cards. Which is more than I can say for some of your friends.
• Hand Rankings- Tap How to Play at any point to get a breakdown of Poker Hand Rankings. This is nice to know before you bet the farm on a possible straight.
• Drop In and Drop Out- Once a game has started, any player can take a break between hands.
• Built for the Infinity Game Table and Game Board by F5 games, the makers of Blackjack Masters Party!