Blackjack Masters Party
Enjoy all the excitement of a trip to the casino on your Infinity Game Table with Blackjack Masters Party!
Blackjack is one of the most popular card games in the world and with Blackjack Masters Party you and up to 3 friends can learn how to beat the house without putting any money at stake in a casino. Now you can play with real casino rules and get an authentic Blackjack experience at home, anytime.
Play with up to 3 players in LOCAL around the table play.
Game Play
Blackjack Masters Party will help you learn 21 and practice your Blackjack skills while playing with your friends or on your own.
Learn when to hit, when to split your hand, whether or not you should purchase insurance, and when is the best time to double down.
You can also show and hide the Hi-Lo card count so you can practice your card counting skills on each hand.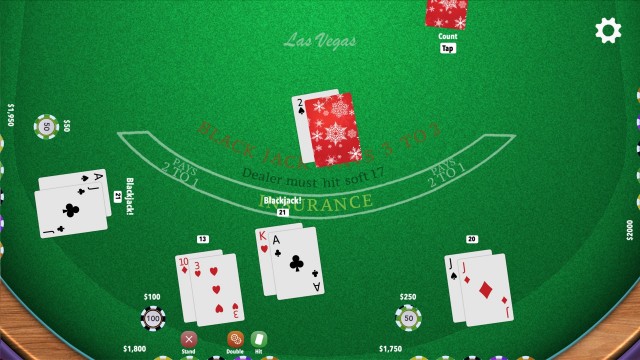 Features
• Multiplayer: Play with 1-4 players LOCALLY and get an authentic Blackjack experience
• Real Casino Rules: Double Down, Split to 2 Hands, Dealer hits soft 17, Insurance Pays 2:1, Blackjack pays 3:2, 6 Deck Shoe
• Card Counting: Hi-Lo Card Counting helpers teach you when to vary your bet based on the state of the count
• Small Fry to High Roller: Start with a stack ranging from $500 - $5000!
• Drop in and Drop Out: Players can jump in or leave the table between each hand.
Developed for the Infinity Game Table by F5 Interactive LLC