A SWEET TREAT RACE FOR THE KIDS!
With 40+ million games sold, CANDY LAND is one of the most popular children's games of all-time. Easy for young kids to play as there is no reading and only limited counting skills are needed. 1-4 players take turns spinning the Color Wheel to race through Candy Land's colorful winding road, visiting locations like the Licorice Lagoon and Nana's Nut House as they make their way to King Kandy's Rainbow Castle. First player to land on the Rainbow space is the winner!
The INFINITY GAME TABLE is a revolutionary way to play the games you love - LOCALLY or COLLABORATIVELY online.
A DELIGHTFUL INTERACTIVE VERSION OF THE ORIGINAL CANDY LAND GAMEPLAY:
• The game will randomly decide who goes first.
• Spin the COLOR WHEEL to start a turn.
• Move to the next color of square or LOCATION Space indicated on the COLOR WHEEL.
• LICORICE SPACES are sticky spots where players get stuck for ONE (1) turn.
• Skip ahead by landing on a SHORTCUT space.
• The game will end when the first player reaches the RAINBOW SPACE at the gates of the Candy Castle.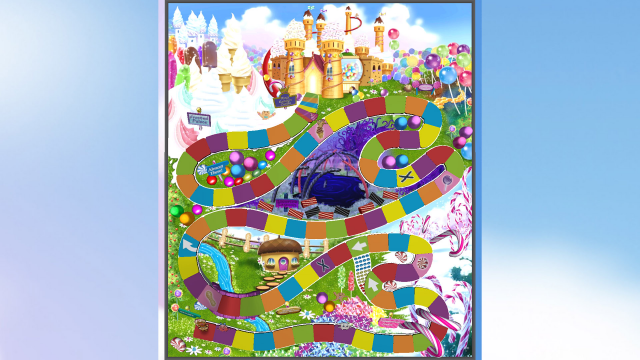 THE SWEET CLASSIC GAME, BUT SUGARCOATED WITH THESE DIGITAL HIGHLIGHTS:
• LOCAL MULTIPLAYER or CONNECTED PLAY experience for 2-4 people
• A sweet, delicious and visually stunning 3D game board (Top down).
• Various "Easter Egg" animations can be found & triggered by the player by tapping on characters and objects on the game board.
• 4 3D animated player pawns / Tap to move.
• SFX and animations will help convey excitement or indicate trouble.
• An authentic animated version of the beloved original game.
CANDY LAND and all related characters are trademarks of Hasbro and are used with permission. © 2023 Hasbro. All Rights Reserved. Licensed by Hasbro.