DC Solitaire
The DC Solitaire card games train your brain with classic solitaire experience. They are the best way to play the classic card game that incorporates the famous DC characters you know and love with clean and intuitive designs.
The object of the solitaire games is to create four Foundation Piles of solitaire cards - one per suit.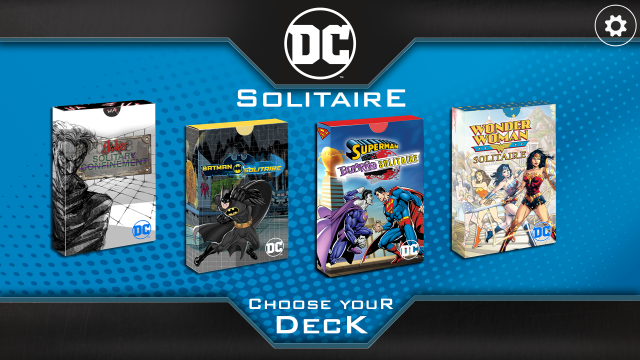 Game Play:
● Choose between DC's Joker, Batman, Superman Bizarro or Wonder Woman.
● Play different versions of DC Solitaire including one card draw (Easy) or three card draw (Normal).
● 28 cards of a 52-card deck will be distributed in 7 piles, or Picture Stacks, with one card facing up.
● Aces will automatically go to one of the four piles that matches its suit for DC Joker, DC Batman and DC Wonder Woman while the King does the same for DC Superman Bizarro.
● DC Superman Bizarro plays opposite of the other three DC solitaire games where cards are played upwards, like A/2/3/4 or J/Q/K/A.
● When you place a solitaire card on top of one of the 7 piles, it must be a different color than the solitaire card you are placing it on. Thus, if you have a six of hearts, you can either place a five of spades or a five of clubs on top.
● Keep placing the solitaire cards on top of each other until you cannot move anymore.
Are some solitaire games unsolvable? Yes, some games of solitaire you can't win no matter what. If you use the classic solitaire rules, one mathematical proof finds that about 79% of games are at least potentially solvable.
Are Jokers used in solitaire? Jokers are not used in solitaire; classic solitaire uses only the 52 solitaire cards.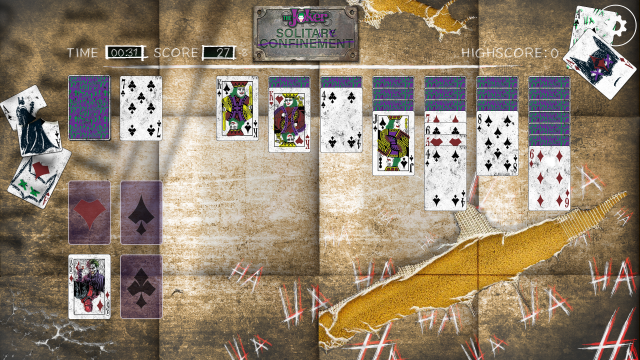 Features:
● Classic solitaire (also known as Klondike)
● Two levels of play
● Clock to keep track of game play
● 52 card deck
● Designed for the Infinity Game Table
All DC characters and elements © & ™ DC (s23)
SUPERMAN and all related characters and elements © & ™ DC (s23)
WONDER WOMAN and all related characters and elements © & ™ DC (s23)