A MAGICAL TWIST ON A CLASSIC GAME
In a dimension in space and time, between the Earth and the magical realm, wizards play a game of wits with a unique type of magical creature called Fourzies.
Fourzies are social creatures that hate being separated. They long to be connected in groups of FOUR and need your help!
In the game of Fourzy, you are a wizard and control a species of Fourzy, commanding them to enter the board; to reunite with their brothers and sisters.
This sounds simple, right? Aye, but the board is filled with obstacles, and your rival wizard is trying to connect his pieces first.
Do YOU have what it takes to become a Fourzy champion?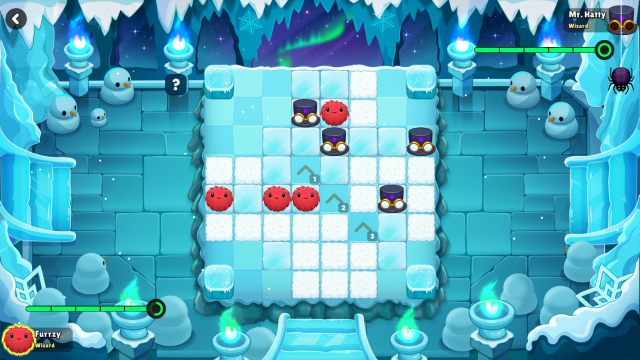 OVERVIEW
In Fourzy, two wizards compete to line up four magical creatures in a row, column, or diagonal. As soon as one player gets four creatures lined up, the player wins.
To make a move, players choose where the piece will enter. Pieces can enter from any side of the board. The piece will then travel into the board and interact with other pieces and board elements.
VARIETY
Players can play on fixed or generated boards. Boards contain combinations of interesting terrain such as ice, snow, sand, and goop as well as tokens such as arrows, ghosts, and blockers, each affecting the movement of pieces and the strategy of the game.
Each Fourzy game is a new puzzle to solve with countless combinations of board configurations
A GAME FOR EVERYONE
CUTE AVATARS
Players can choose to control 19 different magic creatures, each with an individualized animated look.
SHORT, STRATEGIC
Games can be completed in a few minutes. A timer can be enabled to speed up gameplay.
FAMILY FRIENDLY
Fourzy is a fun, mind-stimulating game suited for wizards of all ages.
CHALLENGE YOUR MIND
Fourzy is designed as a cognitive experience to help players develop logical thinking, visualization, and tactical planning.
Developed by Mind Isle, LLC