IT'S ALL ABOUT CHOICES, BUT ANYTHING CAN HAPPEN IN THE GAME OF LIFE!
The game that's entertained families for generations, LIFE drives up to 6 players through life's winding road as they go to school, choose a career, get a job, get married, have kids, and save for their golden years.
However, there will be lots of obstacles (decisions to make) along the way until you reach retirement.
The wealthiest retiree at the end of the game is the winner!
The INFINITY GAME TABLE is a revolutionary way to play the games you love - LOCALLY or COLLABORATIVELY online.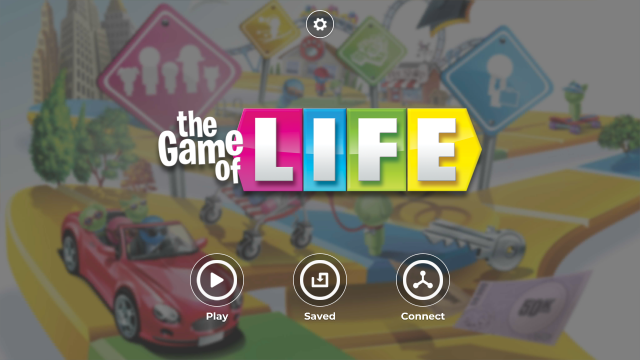 A FUN, LIFE-LIKE INTERACTIVE VERSION OF THE ORIGINAL GAMEPLAY:
• Players are given $200K and must decide before starting if they will go to COLLEGE or begin their CAREER.
Careers are selected by drawing a CAREER CARD. If a player elects to go to College, they will choose a COLLEGE CAREER CARD. Career Cards also indicate the salary earned.
• Spin the NUMBER WHEEL to start a turn and move the number of spaces indicated. If the BONUS NUMBER is spun, a player will receive a cash bonus.
• STOP! Spaces halt the player's movement and they must follow the instructions. These spaces prompt life's milestones like Night School, College Graduation, Getting a Spouse, Having Kids and more!
• The game ends once everyone retires, the player with the most in the bank...wins!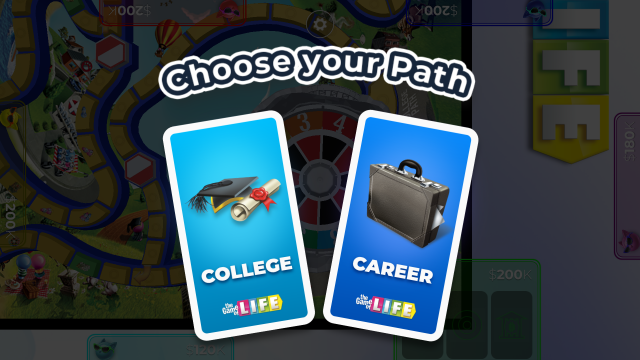 THE CLASSIC GAME FAMILIES LOVE, WITH THESE AMAZING DIGITAL HIGHLIGHTS:
• LOCAL MULTIPLAYER or CONNECTED PLAY experience for 2-6 people
• A rich and visually stunning 3D game board where the details really stand out. Watch the board zoom in and out!
• The spaces on the board offer a variety of fun, engaging animations when a player lands on them.
• Automatic set up with $200K given out to each player to begin their journey.
• Nostalgia-driven, interactive Number Wheel (Spinner).
• Automated rules - reduces game time & speeds up the pace.
• Automated Banker handles all the money and loans.
• The seamless game play provides an authentic board game experience & much more!
GAME OF LIFE is a trademark of Hasbro and is used with permission. © 2023 Hasbro. All Rights Reserved. Licensed by Hasbro.