gensmak™
gensmak™ is a pop culture trivia game with different questions for every generation. Featuring strategy, logic, and hints by comedians, it's a fresh take on trivia that's ACTUALLY NEW!
Be Strategic: Win by being the first to 20 points and answering 4+ questions outside of your generation. Easy peasy lemon squeezy.
Take the Hints: Written by comedians, our hints are designed to give you a fighting chance at getting the answer right, even if you don't get the reference.
Laugh & Learn: You'll LOL watching grandma try to pronounce SZA, but how have you never heard of bobby socks?
Developed by Graphite Lab
Gameplay
Imagine a world where Martha Stewart, Baby Shark, Kim Jong-Un, and toga parties all have something in common. Add strategy, logic, hilarious hints, and snort-inducing laughter.
Insert your grandparents, friends, and any Gen Z's you can find.
Yep. It's just that electric.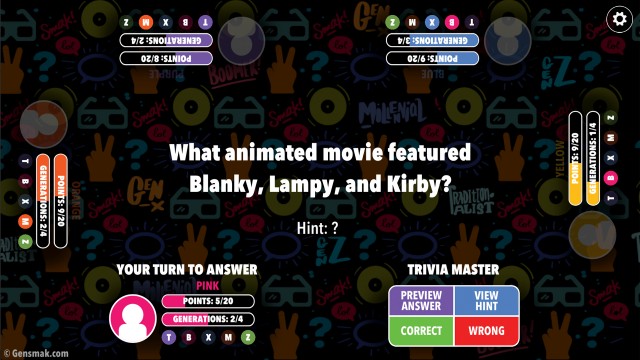 Follow Us
gensmak is a woman-owned business. We're hard at work on new question sets and more digital craziness every day. Follow us on social media and visit our website (www.gensmak.com) for the latest and greatest.
Instagram: @gen.smak
Facebook: gensmak
Twitter: @gensmak
If you have feedback or simply want to tell us how much you're loving the game, contact us at [email protected] We have real humans on the other end who are eager to hear from you! No, really. Her name is Catherine and she's the nicest person alive.