A MAGICAL BATTLE FOR THE BOARD WHERE THERE CAN BE ONLY ONE WINNER!
Legend has it, that the oldest strategy game of all, Chess, is actually based on WIZARDS CHESS. The principle remains the same as 2 players are locked in head-to-head combat over the checkered board, taking turns to move their pieces with the objective of imprisoning the opponent's King for the win. Watch closely as the pieces battle for the board. It seems relatively simple, but that's where the trickery lies - it's a game of skill with a little magic to keep you entertained...forever!
The INFINITY GAME TABLE is a revolutionary way to play the games you love - LOCALLY or COLLABORATIVELY online.
AN ENCHANTING INTERACTIVE VERSION OF WIZARDS CHESS GAMEPLAY:
• Players select the color of their WIZARD ARMY PIECES (Light or Dark).
• One (1) move per turn.
• Each set has 16 pieces. King, Queen, Bishop, Knight, Rook, Pawn.
• Each PIECE has it's own move just like classic chess.
• A KING can move ONE (1) square in any direction or perform a move.
• A QUEEN can move any number of squares along a row or column or diagonally, but may not jump other pieces.
• A ROOK can move any number of squares along a row or column, but may not jump other pieces.
• A BISHOP moves diagonally any number of squares, but may not jump other pieces.
• A KNIGHT performs an L-shaped move, 2 squares vertically and 1 horizontally OR 2 squares horizontally and 1 square vertically. Dragons can fly over other pieces to make their move.
• A PAWN moves forward 1 square along it's column. It may move forward diagonally 1 square to either adjacent column ONLY to capture an opponent's piece.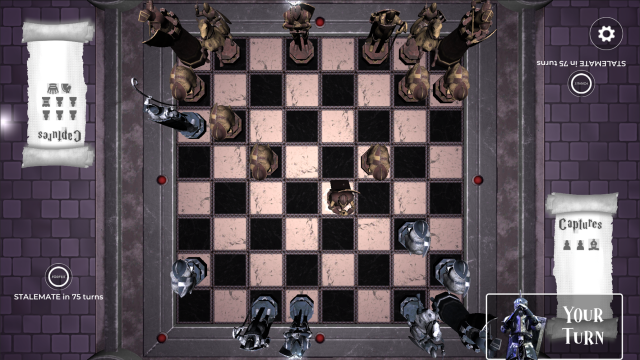 IT'S THE ANCIENT WIZARD STRATEGY GAME, BUT MORE MAGICAL WITH THESE HIGHLIGHTS:
• LOCAL MULTIPLAYER or CONNECTED PLAY experience for 2 players.
• A 3D game board with 3D pieces.
• Automatic game set up.
• Player turn notifications.
• 2 sets of 3D pieces / Tap a piece to show valid moves (great for beginners).
• Impactful animations & SFX.
• How To Play.
• No end of game clean up needed!
• Ages: 3+/Ageless
• The gameplay is seamless with automated rules, yet this digital version let's you play face-to-face for an authentic board game experience.
WIZARDING WORLD and all related trademarks, characters, names, and indicia are © & ™ Warner Bros. Entertainment Inc. Publishing Rights © JKR. (s23)