Memoriae: The Dragon Egg Heist
Embark on a thrilling adventure in a magical kingdom of dragons!
In Memoriae: The Dragon Egg Heist, you play as a brave adventurer tasked with retrieving stolen dragon eggs from a notorious thief.
Put your memory to the test as you travel through various regions, challenging opponents to memory card games.
Each victory brings you closer to finding all the stolen dragon eggs and saving the kingdom.
Discover the secrets and wonders of this medieval world filled with mythical creatures, ancient ruins, and hidden treasures.
Can you retrieve all 28 dragon eggs and restore peace to the kingdom? Play Memoriae: The Dragon Egg Heist today and find out!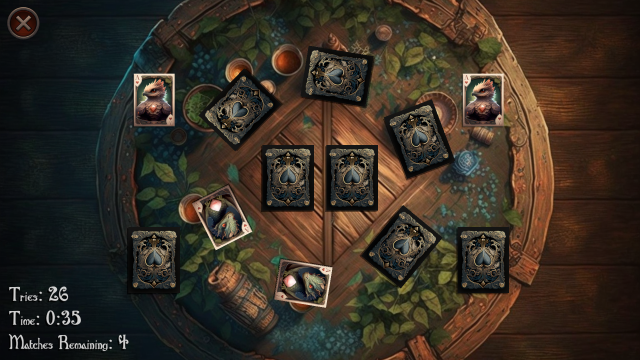 Game Play
In Story Mode, match cards by selecting a card and then trying to find its match.
Complete a level to earn dragon eggs and map locations.
In the Hatchery, all your recovered dragon eggs will be available to you as you complete levels in Story Mode.
In Quick Match, play a selection of levels ordered by difficulty to earn Dragon Stones--and Dragon Food, which are used to hatch and feed the dragons that you win in Story Mode.
Use the Dragon Stones to heat up your dragon egg and then hatch it!
Once hatched, you can name each dragon and then use your Dragon Food to feed it.
Complete all 28 levels and hatch all dragons to beat the game!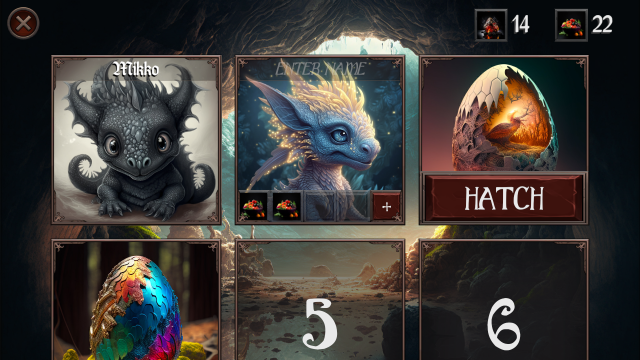 Features
● Collect exquisitely designed dragon eggs for your Hatchery.
● Hatch, name, and feed your baby dragons.
● Collect Dragon Stones and Dragon Food to maintain your Hatchery.
● Up to four players can track their individual progress through the world of Memoriae.
● Exciting memory card game challenges.
● Adventure through a magical medieval kingdom.
● Discover hidden treasures and mythical creatures!
● Win dragon eggs after each successful memory game.
● Restore peace to the kingdom and become a hero!
Developed and optimized by Tresiris,LLC