Pixel Push Football
Pixel Push Football is an arcade game with physics driven game play based on the rules of paper football.
■ Fast, physics-based action.
All movement is 100% controlled by a physics system meaning each shot is based on your skill and your skill alone. Super-fast gameplay means average game length is less than 15 minutes. Touchbacks, Safeties, Touchdowns, Field Goals, Extra Points, 2 Point Conversions, it's all in the game.
■ 1 Player versus AI
Dynamic AI driven solely by the physics system means no two games are ever the same vs the CPU. 3 difficulty levels to choose from.
■ Local 2 Player versus
Innovative two player mechanic where each player sits across from one another and takes turns attempting to score. Think "old school arcade". Great on larger screens like the Infinity Game Table!
■ Tournament Mode
Supports 1-6 human players. Single elimination bracket, progress can be saved and resumed.
■ 3 Unique Challenges with Score tracking.
- Shred the Defense: A progressively more challenging game where you must fling the football towards a receiver located on the field. Defenders will move randomly across the field and block the balls path. You have 8 seconds per turn. 4 downs per score.
- Two Minute Drill: Score as many touchdowns as possible within two minutes. Each score will move the ball farther away from the goal.
- Field Goal Frenzy: Score as many field goals as possible without missing.
■ Customizable Controls
Customize the pointer offset and ball impact force within the settings menu to suit it perfectly to your device.
Gameplay
BASICS
__________________________
Touch and hold outside of the shadowed area to spawn your pointer.
Drag or flick your pointer into the ball to impact and move it.
Impact force and pointer offset can be adjusted in the settings menu.
TOUCHDOWN | SCORING
__________________________
To score a touchdown the ball MUST hang off the edge of the table.
If the ball goes too far over the edge it will fall off the table and be a touchback.
Too short and it will be a turnover.
TOUCHBACK | STRIKEOUTS
__________________________
If you knock the ball off the table past the scoring line it will be a touchback.
Each touchback counts as a strike and after 3 strikes the opposing team can attempt a field goal.
CREDITS
__________________________
Design / Coding - Brandon Thacker
Graphics - @Grigoreen
Music & Sound - @Melloforge
Testing - Jarred, Daniel, Travis, Claire, Lily, Will, Ben & Many Others!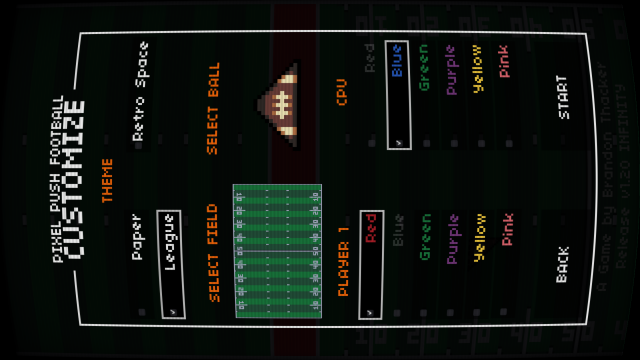 Features
• "8-bit" retro style art and sound.
• Customizable Graphics Options
• 3 Total Themes
• 8 Total Fields
• 26 Different Ball Designs
• 6 Player Color Choices
Developed by Brandon Thacker