RISK
Battle opponents in strategic warfare in the official digital version of the classic Hasbro board game.
Battle in real-time against the Central Powers in WWI, survive war games against undead zombie hordes, and fight on fantasy, futuristic and sci-fi maps* (includes in-app purchases).
Select from classic or custom rules, play solo or against 5 other opponents in local play.
Can you clear the fog of war and climb the ranks to Grandmaster?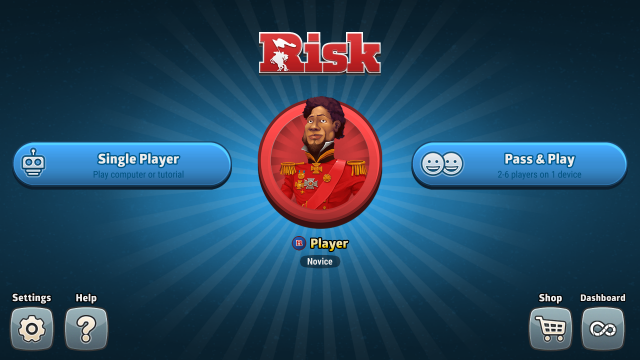 Gameplay
• Build an army to clash against your foes!
• Use diplomacy to gain allies and fight to the death for blood and honor!
• Command your troops on the battlefield!
• Engage in glorious combat and all-out war!
• Protect your allies & conquer your enemies!
• Use strategy to lead your army to victory!
• Play with 1 to 6 players.
Features
• Base Game includes: 21 maps total (tutorials, scenarios, classic, premium exclusives and more)
• In-App Purchases include 64 total purchasable maps with 4-5 maps per pack and 8 themed bundles which include themed troops, dice, avatar and avatar frames) for a total of 85 maps and 8 bundles.
• Optimized for the Infinity Game Table
RISK is a trademark of Hasbro and is used with permission. © 2023 Hasbro.  All Rights Reserved. Licensed by Hasbro.