PLAY THE WORLD'S GREATEST TRIVIA GAME WITH THE NEW VERSION OF HARRY POTTER!
With 100+ million games sold, TRIVIAL PURSUIT is the greatest trivia game of all-time and now you can play the HARRY POTTER version. It's fun family-friendly entertainment as 2 - 6 players take turns rolling the die, moving their pawn along the board, and answering skill-testing questions from the classic Harry Potter categories: Animals and Magical Creatures, Hogwarts, Magical Objects, Magical People, Magical Spells & Potions, and The Dark Arts. Land on a HUB space and get a chance to earn a WEDGE for the pawn. First player to collect all the Wedges and correctly answer the Final Question for the LIGHTNING BOLT wins the game!
The INFINITY GAME TABLE is a revolutionary way to play the games you love.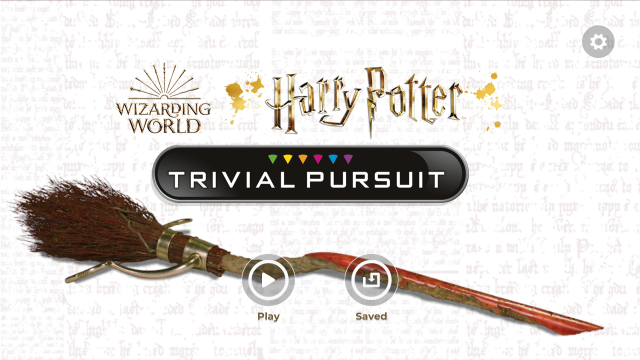 AN INCREDIBLE INTERACTIVE VERSION OF THE HARRY POTTER TRIVIA PURSUIT GAME:
• Players select the pawn of their choice, then roll the die to determine who goes first.
• Toss the die to start a move.
• Land on a COLOR WEDGE SPACE and answer a QUESTION from that color category. Answer correctly to earn a COLOR WEDGE PIECE that will then be added to the PAWN, and ROLL AGAIN. An incorrect answer ends the turn.
• ROLL AGAIN space allows a player to roll again.
• First player to collect all SIX (6) COLOR WEDGES and the LIGHTNING BOLT is the HARRY POTTER TRIVIA MASTER!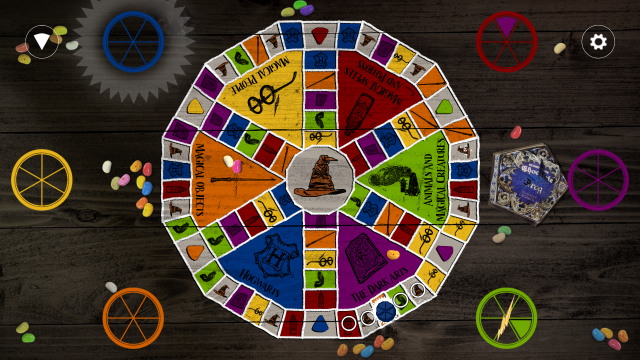 IT'S THE HARRY POTTER TRIVIA PURSUIT GAME WITH THESE DIGITAL HIGHLIGHTS:
• LOCAL MULTIPLAYER experience for 2 - 6 players.
• A rich, dynamic, and visually stunning 2D game board (Isometric) with 3D pieces.
• 3D animated dice.
• Animated Question Cards with SFX. If an incorrect answer is selected, the correct answer will be revealed.
• 6 3D animated player pawns / Tap to move.
• The gameplay is smooth, with tapping the spaces to move a pawn providing an authentic board game experience & much more!
TRIVIAL PURSUIT, the associated logo, the distinctive design of the game board, trivia cards, game tokens, and scoring wedges are trademarks of Hasbro and are used with permission. © 1981, 2023 Hasbro. All Rights Reserved. Licensed by Hasbro.
WIZARDING WORLD and all related trademarks, characters, names, and indicia are © & ™ Warner Bros. Entertainment Inc. Publishing Rights © JKR. (s23)