FIND TROUBLE IN THE DIGITAL "POP-O-MATIC" BUBBLE!
This is a fast-paced POP to the finish, where players must travel their 4 pegs around the board, bumping their competitors' back to the start, while trying to avoid TROUBLE before they make it safely into the Finish Zone for the win!
The INFINITY GAME TABLE is a revolutionary way to play the games you love - LOCALLY or COLLABORATIVELY online.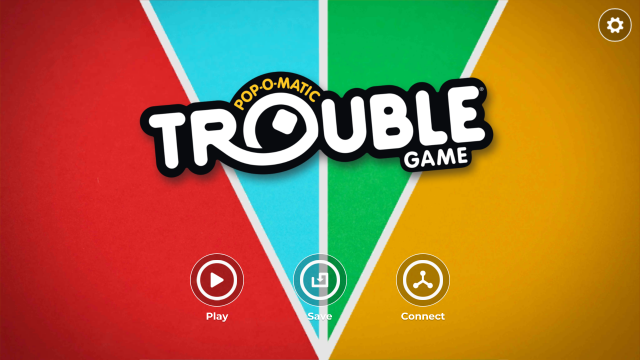 A COOL INTERACTIVE VERSION OF THE ORIGINAL TROUBLE GAMEPLAY:
• Tap the Pop-O-Matic dice bubble to roll.
• A SIX (6) must be rolled to move one of a player's four (4) PEGS from their Start Zone.
• Move one Peg per turn. Roll a six to earn an additional go.
• BUMP your competitors' Pegs back to their Start Zone by landing directly on them.
• Land on a DOUBLE TROUBLE space and get an extra roll.
• The first player to move all their Pegs into their Finish Zone WINS!
IT'S THE CLASSIC GAME, BUT WITH THESE ENGAGING HIGHLIGHTS:
• LOCAL MULTIPLAYER or CONNECTED PLAY experience for 2-4 people.
• A rich, dynamic and visually stunning 3D game board with the classic colors.
• Nostalgia-driven classic "Pop-O-Matic" bubble digitally re-created, including SFX. If you hold your finger on the bubble, it will stay in a down state until released.
• BUMP & WIN animations.
• The gameplay is smooth, with tapping the spaces to move a pawn providing an authentic board game experience & much more!
TROUBLE is a trademark of Hasbro and is used with permission. © 2023 Hasbro. All Rights Reserved. Licensed by Hasbro.