A SEASONAL INTERACTIVE STORY SERIES FOR KIDS 3-5
Everyone loves a good story, and when children are learning to read having books rhyme is excellent for their brains to help build memory capabilities, listening, thinking & comprehension skills - top that with four seriously cute Halloween-themed tales that your child can opt to read themselves or select the Read To Me function.
HOCUS POCUS - Book 1: A little witch (Izzy) learns the best way to do something right is to concentrate on just one thing with all your might.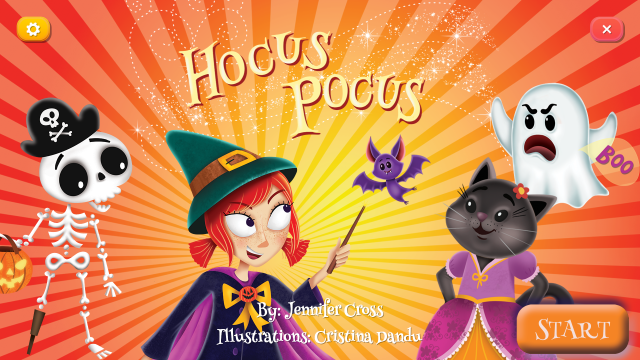 FUN INTERACTIVE STORIES WITH THESE AMAZING HIGHLIGHTS:
• Rhyming stories with positive life lessons.
• Read To Me (Narration) & Read Yourself options.
• Tap & Explore! Tap characters and objects to experience multiple animations & sound effects per page.
• Easy-to-use, so that even users under 3 years of age will have no problems enjoying the stories.
• Character crossovers in all 4 books! While enjoying a story, see if you can spot any of the other characters from this series. Some are harder to find than others!
• Sharing: Kids can read/play alone or experience the books as a family.
• Language: English.
MORE BEWITCHING HALLOWEEN INTERACTIVE STORIES AVAILABLE IN-APP FOR PURCHASE:
LAZY BONES - Book 2: A little skeleton (Matteo) discovers it might be just crazy to pretend you are lazy.
COPYCAT - Book 3: A little cat (Scarlet) discovers you do not have to be like the rest to be your best.
SPOOKY SOUNDS - Book 4: A little ghost (Fletcher) learns giving people a fright is not right.
Brought to you by Axis Mixed Reality