A CHRISTMAS THEMED INTERACTIVE STORY SERIES FOR KIDS 3-5
Everyone loves a good story, and when children are learning to read having books rhyme is excellent for building their memory capabilities, as well as listening, thinking & comprehension skills. Top that with four seriously cute Christmas tales that your child can opt to read themselves or select the "Read To Me" function.
SANTA'S CHRISTMAS - Book 1: Find out how Santa likes to spend Christmas Day after a long night of delivering toys in his sleigh.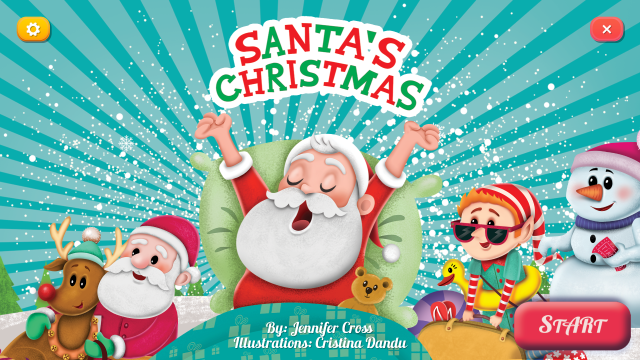 FUN INTERACTIVE STORIES WITH THESE AMAZING HIGHLIGHTS:
• Rhyming stories with uplifting themes.
• "Read To Me" (Narrated) & "Read Yourself" options.
• Tap & Explore! Tap characters and objects to experience multiple animations & sound effects per page.
• Character crossovers in all the books in this series! While enjoying a story, see if you can spot any of the other characters - some are harder to find than others!
• Language: English.
MORE HEARTWARMING INTERACTIVE STORIES AVAILABLE IN-APP FOR PURCHASE:
THE ELVES' HOLIDAY - Book 2: After making toys all year at their workstation, the elves take a much deserved vacation.
SANTA'S NEW REINDEER - Book 3: Young reindeer who want to pull Santa's sleigh must practice flying each and every day!
THE SNOWMAN'S SLEIGH RIDE - Book 4: The Snowman gets the biggest surprise when Santa takes him into the skies.
Brought to you by Axis Mixed Reality