A SPRING-THEMED INTERACTIVE STORY SERIES FOR KIDS 2-5
Everyone loves a good story, and when children are learning to read having books rhyme is excellent for their brains to help build memory capabilities, listening, thinking & comprehension skills - top that with four seriously cute Spring-themed tales that your child can opt to read themselves or select the Read To Me function.
THE HUNGRY BEAR - Book 1: After a long winter sleep, a mother bear must be shrewd and teach her cub (Logan) to search for food.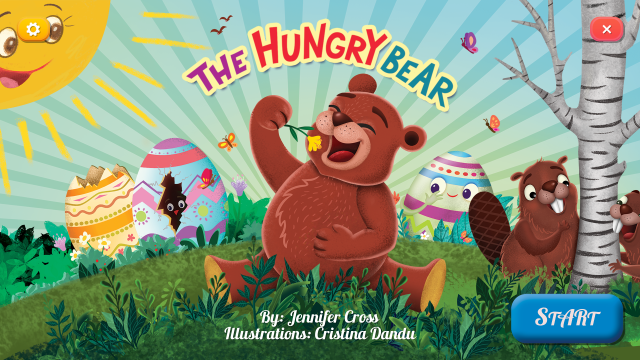 ENGAGING INTERACTIVE STORIES WITH THESE AMAZING HIGHLIGHTS:
• Rhyming stories with positive life lessons.
• Read To Me (Narration) & Read Yourself options.
• Tap & Explore! Tap characters and objects to experience multiple animations & sound effects per page.
• Easy-to-use, so that even users under 3 years of age will have no problems enjoying the stories.
• Character crossovers in all 4 books! While enjoying a story, see if you can spot any of the other characters from this series. Some are harder to find than others!
• Sharing: Kids can read/play alone or experience the books as a family.
• Language: English.
MORE FRESH, FUN & INTERACTIVE STORIES AVAILABLE IN-APP FOR PURCHASE:
THE BEAVERS' SPRING - Book 2: All Spring the beavers play and work to prepare a home which they are about to share.
THE EGG'S EASTER HUNT - Book 3: An Easter egg (Shelby) gets a treat when she plays hide and seek.
THE EASTER CHICKS - Book 4: Easter brings special things that come in eggs and have little legs.